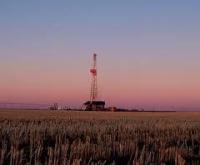 Apache Corporation has made an oil discovery at the Phoenix South-1 well - the company's first discovery in Australia's offshore Canning Basin.
Wireline and formation pressure tools have confirmed at least four discrete oil columns ranging in thickness between 85 and 151 feet (26 to 46 meters) in the Triassic Lower Keraudren formation, within an overall, sand-rich section between 13,648 and 14,763 feet below sea level (4,160 to 4,500 meters).
Six light oil samples have been recovered from three intervals to date; permeability measurements from the sampled zones indicate a productive oil reservoir with preliminary estimates that there might be as much as 300 million barrels of oil in place.