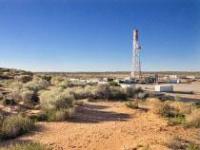 Beach Energy Ltd advises of a new Birkhead Formation oil discovery at Stanleys-1 in PRL 171 (Beach 40% and operator, Drillsearch 60%) and provides initial results from the first development well of the second Bauer Field pad drilling campaign.
Stanleys-1
Located in PRL 171 (within the former PEL 91) on the Western Flank, the Stanleys-1 exploration well is located 3.9 kilometres north-east of the Balgowan-1 oil discovery and 3.5 kilometres south-west of the Spitfire Field.
Stanleys-1 reached total depth on 5 March 2015 with strong oil shows encountered through the Birkhead Formation. Wireline logs indicated a seven metre gross reservoir interval corresponding to the strong oil shows. A drill stem test over an interval from 1,713 metres to 1,724 metres (measured depth) recovered 23 barrels of oil over 117 minutes at a calculated rate of 280 barrels of oil per day. Consequently, Stanleys-1 will be cased and suspended as a future oil producer.