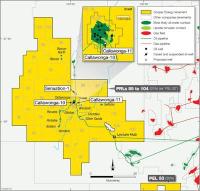 Cooper Energy Limited reports that Callawonga-10, an oil development well in PPL 220 on the western flank of the Cooper Basin, South Australia, is to be cased and subsequently completed after reaching a total depth of 1,482 metres in the Westbourne Formation.
Callawonga-10 was the first of a three-well drilling campaign targeting the Namur Sandstone.
Oil shows were observed in the primary targets, McKinlay Member and Namur Sandstone. A total gross oil column of 4.8 metres is interpreted in Callawonga-10. The well will be cased and suspended to accelerate oil production from the southern area of the field. Pre-drill modelling indicated Callawonga-10 has potential to produce up to 200 kbbl of oil (joint venture 100%), of which approximately 85 kbbl (joint venture 100%) could be incremental 2P reserves. Further work is required post-Callawonga-10 to confirm these estimates.
Following Callawonga-10, the EDA Rig 930 will drill the Callawonga-11 oil appraisal well approximately 670 metres southeast of Callawonga-9 (refer map following). Callawonga-11 has a planned total depth of 1,730 metres and is anticipated to be completed within 8 days of spudding.