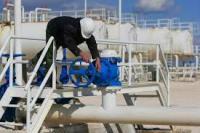 Gulfsands Petroleum says that the Lalla Yetou Updip-1well (LTU-1), located within the Rharb Centre Permit in Northern Morocco, has been successfully drilled to a total depth of 1182 meters.
The LTU-1 well flowed gas to surface, through a 28/64" choke, at an estimated rate of 6.6 million standard cubic feet per day (mmscfpd) with no formation water produced. The LTU-1 well is currently being monitored for pressure build-up, after which it will be temporarily suspended as a future gas producer.
Drilling operations on LTU-1 commenced on 20th June 2014 and the well was drilled to the planned total depth of 1182 meters on 1st July 2014. Elevated gas readings obtained while drilling, as well as interpretation of wireline logs, indicated the presence of a gas bearing reservoir section of 12 metres gross thickness at the pre-drill target interval depth.