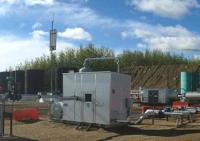 Leucrotta Exploration Inc. announces an update on its two light oil discoveries and as well as other operational activities.
Montney Light Oil Discovery:
The Mica 13-7 horizontal well was drilled with a vertical pilot that was cored and logged prior to drilling a 1,500 meter horizontal leg. The well was drilled in Q4 2014 and completed in Q1 2015. During a 29 day test period, the well flowed at an average rate of approximately 447 boe/d (248 barrels per day of 39 API light oil, 25 boepd of NGL's and 1.0 mmcf/d of natural gas). At the end of the 29 day test period, the well was flowing at approximately 472 boe/d (195 bopd of light oil, 35 boepd of NGL's, and 1.5 mmcf/d of natural gas). Based on data collected to date, the company estimates that there is 50 meters of net pay containing approximately 26 million barrels of original oil in place ('OOIP') and 36 bcf of original gas in place ('OGIP') per section of land. Leucrotta has approximately 172 net sections of land in the greater Dawson area and will continue to delineate this large potential resource. Management is pleased with the result of this well and will look to optimize drilling and completion techniques in future wells to maximize rates of return. Leucrotta intends to place the well on production in Q3 2015.