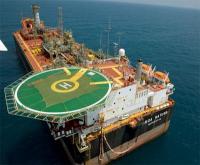 Premier is pleased to announce an oil discovery at the Isobel Deep exploration well 14/20-1 in the North Falkland Basin, approximately 30km south of the Sea Lion field.
The Isobel Deep exploration well has been drilled to a depth of 8,289 feet reaching top reservoir on prognosis. The bottom 75 feet of the well consists of oil bearing F3 sands. These sands were at a higher than expected reservoir pressure and this resulted in an influx into the well. As part of the operations to remove the influx, oil was recovered from the well and appears similar in nature to Sea Lion crude.
As a result of the new geological information it has been decided to suspend operations on the well and release the rig to drill in the South Falkland Basin. The rig is expected to return to continue operations in the North Falklands Basin in August.
Premier is now considering the optimal appraisal programme for the Elaine/Isobel complex in PL004.
Andrew Lodge, Exploration Director, commented,'This is an important play opening discovery in the previously unexplored southern area of Licence PL004. The well has successfully demonstrated a trapping mechanism and the presence of moveable oil in the Elaine/Isobel fan complex.'