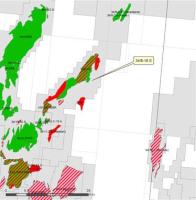 Statoil Petroleum AS, operator of production licence 120, has completed drilling of exploration well 34/8-16 S.
The well was drilled on the east flank of the Visund field in the northern part of the North Sea, and about 140 km northwest of Bergen.
The primary exploration target for 34/8-16 S was to prove gas and/or gas condensate in the Middle Triassic (the Lomvi formation). The secondary exploration target was to investigate additional resources in Lower to Middle Jurassic reservoir rocks (the Statfjord and Brent Group) and Upper Triassic reservoir rocks (the Lunde formation).