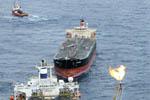 AWE Limited, Operator of the L1/L2 joint venture, has commenced flow testing of the second zone in the Waitsia-1 well, the Kingia Formation, to further appraise the conventional Waitsia gas discovery in the onshore Perth Basin, Western Australia.
The testing program is designed to determine well deliverability from two conventional reservoir zones and to collect gas samples for compositional analysis. The first zone tested, the High Cliff Sandstone, flowed gas at a rate of 24.7 mmscf/d (announced to the ASX on 7 October 2015).
The second zone being flow tested is the shallower Kingia Formation, where a 15 metre interval (3,333 - 3,348 metres) has been perforated.