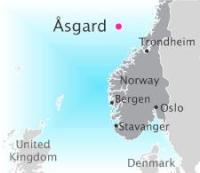 Statoil and its partners this week put the first subsea gas compression facility on line at Åsgard in the Norwegian Sea. Subsea compression will add some 306 million barrels of oil equivalent to total output over the field's life .
This subsea technology milestone opens new opportunities in deeper waters, and in areas far from shore.
"This is one of the most demanding technology projects aimed at improving oil recovery. We are very proud today that we together with our partners and suppliers have realised this project that we started ten years ago," says Margareth Øvrum, Statoil's executive vice president for Technology, Drilling and Projects.
Recovery from the Midgard reservoir on Åsgard will increase from 67 percent to 87 percent, and from 59 percent to 84 percent from the Mikkel reservoir. Overall, 306 million barrels of oil equivalent will be added.