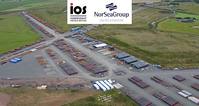 NorSea Group (UK) Ltd and Independent Oilfield Services (IOS) have formed an alliance to provide a complete logistics, storage and inspection package which will deliver significant cost benefits for energy sector companies operating in the North-east of Scotland.
The arrangement will combine NorSea Group's full range of quayside services and logistics expertise at its purpose-built deepwater base at Smith Quay, Peterhead, with IOS's state-of-the-art oilfield equipment storage and tubulars inspection facility at nearby Longside, just four miles from Peterhead Port.
Currently, most equipment and tubulars coming into North-east ports must be transported considerable distances by road to reach suitable storage and inspection facilities. This alliance gives companies the option of landing equipment at Peterhead for the brief trip to the storage base, cutting down on the level of transportation required and reducing associated costs.
Walter Robertson, MD of NorSea Group (UK), says, "The alliance with IOS further enhances NorSea Group's service proposition by improving capability and providing capactity for both companies to provide a "One Stop Shop" for offshore logistics and OCTG supply and management services."
"The combination of NorSea Group's supply base services and the extensive IOS pipe management and storage facilities, located just a few miles from the quayside, is unrivalled and is a key factor in our ability to offer industry lower cost solutions under "the lower for longer" conditions accepted by our industry," Robertson adds.
Glynn Geddie, Business Development Director at IOS, says, "We welcome this alliance with NorSea Group. Since opening our new facility in 2014 we have seen rapid growth in our customer base and working alongside NorSea Group will bring further opportunities for growth and development for both companies. Through this agreement we are extremely competitive with our prices which results in significant cost benefits for our customers."
"We currently operate on a 32-acre site but we have the option to extend to 100 acres giving us the opportunity to grow to meet the requirements of existing and new customers from the drilling sector and elsewhere and to add new services and facilities as part of our expansion plans," comments Geddie.