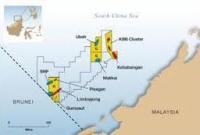 The Gumusut-Kakap field is located in waters up to 1,200 metres (3,900 feet) deep. The platform is expected to reach an annual peak oil production of around 135,000 barrels a day, once fully ramped up. With oil production now under way, work on the gas injection facilities is continuing with an expected start-up during 2015.
'We are delighted to have reached this milestone with our partners," said Andrew Brown, Shell Upstream International Director, 'Gumusut-Kakap is our first deep-water development in Malaysia, and uses the best of Shell's global technology and capabilities in deep water. The field is one of a series of substantial deep-water start-ups this year, driving returns and growth for shareholders.'
This floating platform is the latest addition to Shell's strong portfolio of major deep-water projects. Assembling the vast structure, whose four decks total nearly 40,000 square metres, involved the world's heaviest onshore lift. The project uses Shell Smart Fields® technology to carefully control production from the undersea wells to achieve greater efficiency. Oil is transported to the Sabah Oil and Gas Terminal onshore at Kimanis, Malaysia via a 200 km-long pipeline.