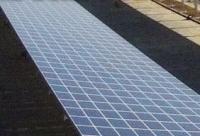 Solar3D, Inc. says that its MD Energy subsidiary has been awarded a $10 million, 2- megawatt solar project with the Fresno/Clovis Wastewater Reclamation Facility, subject to approval by the city council. A city council meeting to approve the award is set for next Thursday, July 30, 2015.
Operated by the City of Fresno, the Fresno/Clovis Regional Water Reclamation Facility (RWRF) provides wastewater treatment services for the greater Fresno metropolitan area in order to protect public health and the environment.
"This is a testament to the value of the synergy between great companies and management teams," said Jim Nelson, CEO of Solar3D. "MDE and SUNworks worked hand in hand to create this solution for the City of Fresno. We are confident that the City will receive not only a great product but also excellent service in the delivery of this contract. This is an example of one way that Danny Mitchell, Abe Emard and their teams continue to work together to serve great customers -- and to build the value of this Company. We anticipate additional developments as we continue to grow Solar3D."