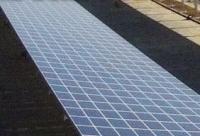 Solar3D, Inc. says that its SUNworks subsidiary was awarded a $3 million, 1-megawatt solar project with the Sun City Lincoln Hills Community Association.
Sun City Lincoln Hills is an active adult retirement community of nearly 3,000 acres, consisting of 6,703 single-family homes and 80 villas. The property includes sports complexes, restaurants and bars, pools, beauty salons, picnic areas, walking/hiking trails, and more.
SUNworks has been tasked with originating financing, designing, and installing 2,898 SunPower solar panels, along with an electric car charger at the location. The system is estimated to save Sun City Lincoln Hills approximately $9.5M over the next twenty-five years, while reducing Sun City's greenhouse gas emissions by 6,945 tons of CO2 (carbon dioxide) over the same time period. This total is equivalent to the same CO2 output generated by 12,626,874 miles driven by a mid-size car, or the countering of effects from the CO2 emitted from trash and waste by 12,627 persons, or an offset as a result of 277,791 trees planted.