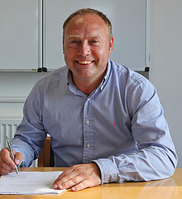 Energy services supplier 3sun Group has been announced as the first UK collaboration for an international company's British operation.
Offshore wind specialist Creadis UK has chosen Great Yarmouth-based 3sun Group as its "execution partner" as it sets up its office in OrbisEnergy, Lowestoft, pledging to employ 40 UK employees by 2020.
The two companies started their relationship in Denmark, where 3sun Group has had a base for nearly five years and Creadis UK's parent company DIS has five offices, including its Copenhagen headquarters.
3sun Group has recently moved to a bigger base at the centre of the Danish offshore wind industry, Esbjerg, adding new services to its portfolio as it grows its business and supports clients in Northern European and Scandinavia.
Off the east coast, Creadis UK will focus on servicing engineering, operations and maintenance (O&M) and asset management with specialist areas of technology troubleshooting, retro-fit and lifetime extension and decommissioning.
Morten Basse, Managing Director of Creadis UK, says, "We are an engineering and design company; we are not executioners for any project with a customer. On projects where we need execution, we will team up with 3sun Group as our execution partner."
Graham Hacon, 3sun Group CEO, says there were many synergies between the two companies. Creadis UK's core competence is turbines with extensive expertise in turbine design and operation. Its engineers have worked with every type of turbine and turbine manufacturer in the last 20 years. 3sun Group has also worked with all the major offshore turbine OEMs so we are a good fit to be Creadis UK's execution partners.
The partnership had come from the work of 3sun Denmark, which was also expanding its services in Germany, Belgium and other continental offshore wind centres from the Vesterhavsgade hub.
The collaboration coincides with the 3sun Group's recruitment drive to train 70 more inspection technicians in the UK, which will take staff numbers to almost 400 from fewer than 300 at the end of 2016.
The company, named Business of the Decade 2017 in its hometown Great Yarmouth's Spirit of Enterprise Awards, has grown its business to about 85% renewables from 50% renewables two years ago offering clients creative solutions and cost reductions across its scope including pre-assembly, installation, inspection and operations and maintenance services.
Last year it invested GBP 1.4 million in training its staff.
Basse says the East of England was an ideal expansion. "Other asset management and O&M companies don't come from turbine development side, they come into wind from the other industries like oil and gas. The UK has the biggest O&M market and the East of England is where the most capacity has been installed so far and will continue to be as far as we can see."
"It is a big market and it is a mature market that has been growing very fast in the UK. The UK wind supply chain is very competent. It has grown and is particularly good at fabrication and execution," Basse adds.
3sun Group employs 5% of all offshore wind technicians working in the UK, has inspected more than 70% of the UK's offshore wind turbines – 1,400 in 2017 alone – and has clocked up more than 1.5million employee hours in wind turbine installation and servicing.
Its engineers have installed more than 4,300 turbines, 281 in 2017.