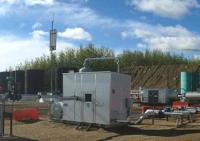 Leucrotta Exploration Inc. is pleased to announce an update on its fall drilling program.
Leucrotta had previously announced that it would drill and complete 3 Montney horizontal wells in the greater Dawson area of northeast British Columbia targeting the liquid's-rich lower turbidite zone of the Montney formation. The program included one development well and two step-out / delineation wells.
The first delineation well tested at a rate of 6.8 mmcf/d of natural gas plus 160 bbls/d of condensate for a combined rate of 1,290 boepd. This rate excludes natural gas liquids in the gas. The test rate significantly exceeded Management's expectations for the well. Based on mapping, Leucrotta has up to 20 additional locations in the immediate vicinity of the well.