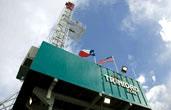 Trinidad Drilling Ltd. has received approval from the Toronto Stock Exchange (the "TSX") to acquire for cancellation, by way of normal course issuer bid (the "Bid"), up to 12,299,009 common shares of the Corporation, which represent approximately 10 percent of the Corporation's public float.
The Corporation had 138,195,784 common shares issued and outstanding on November 18, 2014, of which, to the knowledge of the Corporation, directors, senior officers and principal shareholders (as such term is defined in the policies of the TSX) of the Corporation held 15,205,699 (approximately 11 percent) of the issued and outstanding common shares.
The Bid will commence on November 27, 2014 and terminate on the earlier of November 26, 2015 or the date upon which the Corporation acquires the maximum number of common shares to be purchased pursuant to the Bid. Pursuant to TSX policies, daily purchases made by Trinidad may not exceed 151,180 common shares, representing 25 percent of the six month average daily trading volume of 604,721 common shares on the TSX, subject to certain exceptions prescribed by the TSX including the "block purchase exemption".