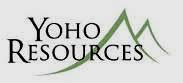 Yoho Resources Inc. has entered into a definitive agreement to sell a portion of its Duvernay assets in the Kaybob area of Alberta (the "Subject Assets") for cash consideration of $50 million (prior to adjustments) (the "Transaction"). Yoho will retain approximately 25% of its net Kaybob Duvernay acreage consisting of 5.5 sections at 100% working interest and Yoho's recently completed well at 16-12-59-19 W5.
The Subject Assets are predominantly non-operated and consist of 10,290 net acres with an average working interest of 39%. Average production (net to Yoho) from the Subject Assets was approximately 890 Boe per day for the first nine months of fiscal 2015.
After closing of the Transaction, the Company expects to be undrawn on its bank credit facilities and will have estimated positive working capital of $16 to $17 million. The annual review of Yoho's bank credit facilities is expected to be finalized on the closing of the Transaction.