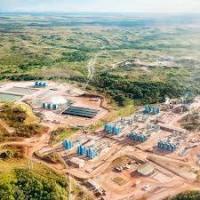 Pacific Rubiales Energy Corp. provided an update on oil flow test results in the Kangaroo-2 appraisal well, located in the shallow offshore, Santos Basin, Brazil.
The Kangaroo-2 appraisal well is located in exploration Block S-M-1165 and confirmed an 820 foot gross (442 foot net) oil column in Paleocene and Maastrichtian aged reservoirs, announced November 26, 2014. The Company has a 35% participating interest in the wells and five surrounding blocks. Karoon Gas Australia Ltd. (ASX:KAR) ("Karoon") holds the remaining 65% interest and is operator of the block.
As announced in a news release yesterday by Karoon, a production test (DST-2A) was conducted over a 12 hour period through three perforated intervals (combined 230 feet), in the Paleocene A, B and C sandstone reservoirs.