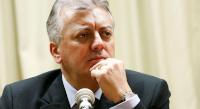 Brazil's Petrobras, which is on the ropes as if it had been punched by Muhammad Ali. The company is wobbling from the worse corruption scandal in over a half a century history, reported on Wednesday a 2014 net loss of 21.6 billion Reais (USD 7.2 billion) after taking 50.8 billion Reais in charges. Ali dazzled the world when he was world heavyweight boxing champion.
Petrobras had delayed its results for five months to address issues related to its operations, including refining units failing to meet targets, lower global oil prices and the graft scandal that has led to accusations against some government officials, plus jailing of former Petrobras directors and private sector top executives of companies contracted by Petrobras and accused of kickback schemes.
Petrobras CEO and president Aldemir Bendine, a former head of Brazil's state-owned bank Banco do Brasil, said in a news conference that additional revisions to the corruption-related write-downs are possible if prosecutors uncover more wrongdoing. But he also said an outside auditor approved Petrobras's earnings "without any reservations".
"We were conservative with the numbers. We might not reach it, but it was a way to give credibility," Bendine said. "We have made our best efforts to turn the page on this sad chapter that the company has passed through."
Bendine startled analysts and the press by expressing shame for the corruption because he was not involved and is CEO and president of Petrobras since last February.
Petrobras has portrayed itself as a victim of the graft and says it has cooperated with authorities. Still, the company struggled to calculate the alleged scheme's impact on its balance sheet, leading auditor PricewaterhouseCoopers to refuse to sign off on its statements since the third quarter of 2014.
The world's most indebted major oil company, Petrobras now faces the challenge of paying down more than 350.8 billion reais in total debt at a time when oil prices are nearly 50% below year-ago levels.
To shore up its balance sheet, the company has scaled back an ambitious investment plan for its deepwater oil fields. Petrobras slashed capital spending to 87.14 billion reais in 2014, down from 104.4 billion reais in 2013.
The company wrote off 6.2 billion reais ($2.1 billion) due to alleged graft and another 44.6 billion reais for overvalued assets, including refineries. As a result, Petrobras on Wednesday reported a net loss of 26.6 billion reais for the fourth quarter on revenue of 85.04 billion reais.
Bendine also said that the company won't pay dividends. Petrobras paid 8.735 billion reais in dividends during 2014.
During 2015, Petrobras forecasts investment of USD 29 billion, compared to USD 35 billion last year. In 2016 investments will drop to USD 25 billion. Petrobras said that it needs to raise USD 13 billion in loans this year. This way, the company should reach 2015 with USD 20 billion in its cash flow.
For 2016, Petrobras says it will divest assets worth USD 10 billion with a total production of 2.8 million barrels. At present production is around 2.5 million barrels.
Bendine was emphatic saying that Petrobras would not sell any pre-salt areas. The company is negotiating exchange of petroleum to China in exchange for USD 3.5 billion loan recently released for Petrobras by China's state-owned bank.
Despite the fallout from the on-going corruption scandal the oil giant announced in February the pre-salt clusters reached record levels in February. The company's output last January was 820,000 b/d, one third of total production.
Statoil Considers Brazil Strategic for Norway
Pål Eitrheim, president of Staoil's Brazilian subsidiary told the local press that despite the Petrobras corruption probe Statoil has a long term vision and "Brazil remains an attractive country and fits perfectly with Statoil´s strategy, experience and capabilities. We have a strong position and operating organisation in Brazil, where we have been established since 2001. Currently we operate the largest offshore field outside Norway, the Peregrino field. Our high-potential exploration portfolio in emerging oil plays in Espírito Santo basin and Campos basin - including the large Pão de Açúcar discovery - represent our "seeds" for future harvest and growth."
Alvaro Teixeira, a geologist who worked for Petrobras during 36 years, was head of Arpel, an association of regional oil companies based in Montevideo, Uruguay, former executive manager of the huge private sector Brazilian Institute of Petroleum, Gas and Biofuels in Rio de Janeiro and now a private oil and gas consultant, told Scandinavian Oil-Gas Magazine that "Petobras corruption is not technical it is administrative. Petrobras has highly professional technical personnel and for this reason the company continues breaking production records."
"I believe that after the corruption scandals, Petrobras will be a smaller company, more ethical and efficient and with less political interference from the government," concluded Teixeira.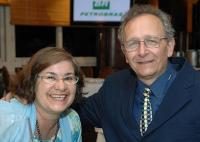 The Authors:
To contact Peter Howard Wertheim and Dayse Abrantes: peterhw@frionline.com.br