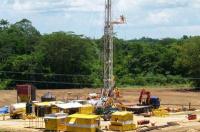 Range has successfully mobilised drilling rig (Rig 8) and rigged up on the drill pad on Canari North exploration well on the Guayaguayare Block onshore Trinidad.
The contractor was required to carry out a number of upgrades and tests on the rig, which were successfully completed on 10 July 2015. Final inspection documents for the rig will be submitted to the Ministry of Energy and Energy Affairs during the current week, as part of formal approvals to commence drilling operations.
The well is expected to spud during the week commencing 27 July 2015, following the required regulatory approvals, drilling the well on paper (DWOP) meeting and pre-spud meeting with partners, contractors, service providers and regulatory agencies associated with the well.
The Canari North well will be the first exploration well to be drilled by Range in Trinidad, and any success with the well is expected to de-risk the Moruga sub-basin and could result in material potential upside in the Guayaguayare block with multiple follow-on prospects and leads to be tested by further exploration drilling in 2015 / 2016.
The planned drilling programme is for a vertical well to be drilled to a target depth of 5,000 ft., and is expected to take approximately 50 days. The well will test for the presence of hydrocarbons in the Gros Morne reservoirs.