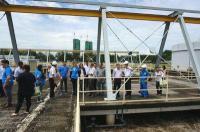 The ninth edition of the ASIAWATER Expo & Forum, the largest and leading water and wastewater event for developing countries in Asia, will take place at Kuala Lumpur Convention Centre from 6-8 April 2016 .
With 90% of the booth space already booked, ASIAWATER 2016 is one of the best shows throughout Asia for current ASEAN water needs, including water supply, water resources, sanitation and purification. This is an unparalleled opportunity for companies to display their latest technologies and solutions to a top level audience.
As part of the ASIAWATER 2016 marketing campaign, the ASIAWATER team organised a technical visit for their exhibitors, staff and media to Indah Water Konsortium (IWK) Bunus Regional Sewerage Treatment Plant (STP) on 2 December. This is the first leg of the three tours to educate and promote the water services industry in Malaysia .