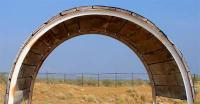 Jura Energy Corporation has made a potential gas discovery at the Aminah-1 exploration well in the Badin IV South block located in the Lower Indus Basin of Pakistan.
Jura holds a 27.5% working interest in the Badin IV South block, which is operated by Petroleum Exploration (Private) Limited (PEL).
However, at the present time, PEL has not provided drilling depth, testing results or other status information with regard to the drilling of Aminah-1 directly to Jura, and Jura has not independently verified the discovery.