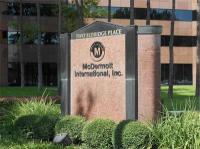 McDermott International, Inc. has plans to conduct the naming ceremony for its new flagship derrick lay vessel, the DLV 2000, at Keppel's Singmarine Shipyard in Singapore on Thursday, April 14, 2016.
The DLV 2000 is a class 3 dynamically positioned vessel combining a 2,200-ton revolving crane with a deepwater S-lay pipelay system configured to install pipelines with diameters ranging from 4.5 to 60 inches in water depths up to 10,000 ft.
The vessel can accommodate up to 400 personnel to facilitate large hook-up and commissioning projects and incorporates a large, 43,000 sq. ft. open deck to allow the transportation and assembly of large subsea structures; enabling safe and efficient stand-alone operations in remote areas.