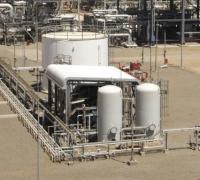 Prices of spot liquefied natural gas (LNG) for delivery to northeast Asia averaged $5.339 per million British thermal units (/MMBtu) for March, according to latest Platts Japan/Korea Marker (Platts JKM) data for month-ahead delivery.
The figure reflects the daily JKM assessment published by Platts, a leading global energy, petrochemicals and metals information provider and a premier source of benchmark price references, between January 18 and February 15, expressed as a monthly average.
Despite supply disruptions which tightened prompt availability towards the end of the trading month, the market still fell 28.2% year over year, with buyers struggling to manage high inventories.