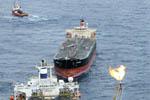 In line with AWE's succession planning strategy, the Managing Director and Chief Executive Officer, Mr Bruce Clement, will step down during 2016 after five and a half years in the role. The company has commenced a search for a new CEO, while continuing to focus on delivery of its growth projects.
AWE Chairman, Mr Bruce Phillips, paid tribute to Mr Clement for his leadership in reshaping the company into a more diversified oil and gas producer with a strong portfolio of producing assets and exciting growth projects, including the Waitsia gas field in Western Australia, widely acknowledged as the largest onshore gas discovery in Australia for 30 years.
'Bruce has presided over a period of significant change for AWE. He has delivered a substantial increase in Reserves and Resources through a combination of astute asset management, such as the purchase and sell down of the Ande Ande Lumut oil project in Indonesia, exploration success in the onshore Perth Basin in Western Australia, and the significant increase of Reserves and production at Sugarloaf in the USA,' said Phillips.