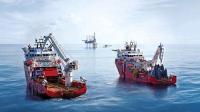 IKM Testing Pty Ltd has been awarded a pre-commissioning services Frame Agreement by DOF Subsea Australia.
The award is for a 3-year frame agreement with the provision to be extended by a further 2 years for pipeline pre-commissioning services by DOF Subsea operating primarily in Australia.
DOF Subsea is a global team with a fleet of state-of-the-art, purpose-built vessels and IKM is committed to delivering the highest quality of service and developing a strong and successful relationship with DOF Subsea, ensuring each project is delivered safely and on time to meet the high standards expected.