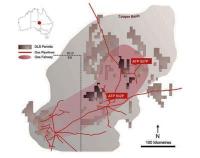 Drillsearch Energy Limited has entered into a farmin agreement with Real Energy Corporation Limited (Real Energy) whereby Real Energy will earn a 50% participating interest and operatorship in ATP 927P and ATP 932P by fully funding the seismic program in each permit. The seismic program consists of 1,000km of seismic reprocessing of data already acquired in both permits and acquisition of an additional 500km of 2D and 100km2 of 3D in ATP 927P and 650km of 2D and of 150km2 of 3D in ATP 932P.
The tenements cover in excess of 3,185 Sq Km and are prospective for conventional oil and gas and tight gas.
The farmout of ATP 927P and ATP 932P to Real Energy is subject to the successful capital raising and listing on the stock exchange of Real Energy and the grant of the ATP 927P and ATP 932P permits by the Minister in Queensland.
Drillsearch has completed the necessary Native Title negotiation for ATP 927P and ATP 932P with the relevant parties. The Environmental Authorities are complete but subject to the payment of a financial assurance.
The Real Energy portfolio now includes a total of 6 tenements and covers an area of over 17,600 sq Km in regions regarded as highly prospective for the exploration of energy resources.
In August 2011, in a separate deal, Real Energy agreed to farm into 4 tenements blocks in the northern Cooper–Eromanga Basin in Queensland with Bow Energy Limited. The Company will become operator of the tenements, covering in excess of 14,500 Sq Km and prospective for conventional oil, shale oil and gas and tight gas, where it plans to drill 6 wells over the next 2 years.