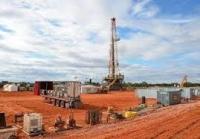 Strike Energy Limited is pleased to provide an update on operations at its Southern Cooper Basin Gas Project in PEL 96 (Strike 66.67% and Operator, Energy World Corporation 33.33%).
Klebb 1 workover
Workover operations at Klebb 1 to replace the downhole pump unit were successfully completed on the 2 November with flow testing recommencing on the 3 November. The pump has been operated at a low rates of around 80 bwpd with no downtime and gas production measured within days of recommencement of testing.
The forward plan at Klebb 1 is to continue pumping operations with incremental water production rate increases used to gradually reduce bottom hole pressure and manage building gas production.