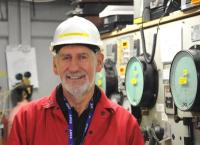 Subsea training facility, The Underwater Centre, is preparing for changes to the prerequisite requirements for experienced commercial air divers which will come in to play in April 2016.
At the moment, candidates looking to take part in the HSE (Health and Safety Executive) or ADAS (Australian Diver Accreditation Scheme) closed bell diving courses need to have a minimum of 50 logged dives totalling at least 50 hours. This will increase to 100 logged dives totalling at least 100 hours - doubling the required dives a commercial air diver must have.
The decision to change the pre-requisites has come from industry agreement, from the IDRCF (International Diving Regulators and Certifiers Forum) and with input from IMCA (International Marine Contractors Association).
Industry agreed to make this change because of feedback that air divers training to become saturation or mixed gas divers sometimes lacked enough diving experience.