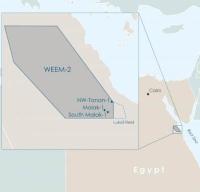 Aminex announces a reorganisation and continuation of its Egyptian interests through a conversion of its carried interest to first production into an overriding royalty position in a recent discovery well.
Aminex is currently a 12.5% shareholder in Aminex Petroleum Egypt Ltd. (APEL) and, through this shareholding, has an indirect 10% carried interest in the West Esh el Mellahah-2 (WEEM-2) production sharing contract (PSC) in Egypt.
KEY POINTS OF EGYPTIAN TRANSACTION:
• Opportunity for the Company to achieve revenues; • No exposure to development and operating expenditure; and • Risk free upside
Four exploration wells have been drilled in the WEEM-2 concession since 2006. The first two exploration wells were abandoned as dry holes and the third well was abandoned after recovering limited quantities of crude oil to surface. The fourth well, South Malak-2 ("SM-2"), drilled in 2014 as a sole risk well by a fellow participant, resulted in a discovery of oil, which has now been declared commercial.