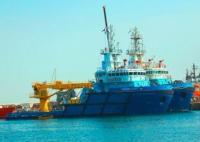 Grandweld has successfully delivered one dive maintenance and support vessel "TAWAM1"to Abu Dhabi National Oil Company (ADNOC).
Grandweld took the new-build project from conception to completion, designing and building the 50m long vessel with a 65-ton bollard pull capability, after signing a contract in December 2013 with ADNOC. TAWAM1 will be operated by ADNOC's group company, Abu Dhabi Petroleum Ports Operating Company (IRSHAD).
"This was a prestigious contract and cements our relationship with ADNOC, one of the world's leading oil and gas companies," comments Jamal Abki, General Manager of Grandweld. The vessel will perform a broad range of tasks, designed with real versatility, performance and operational integrity.