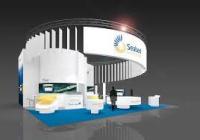 Seabed Geosolutions will soon mobilise for the variation order that was signed by Abu Dhabi National Oil Company (ADNOC) with CGG to conduct a shallow water seabed survey.
The survey is over the Ghasha-Butini field, will take around 12 months and has a value of around USD 125 million. The recent successful completion of the Hail-Shuweihat survey has promoted this variation order, confirming ADNOC's confidence in Seabed Geosolutions' ability to operate safely and efficiently.
In addition, Seabed Geosolutions has mobilised for an ocean bottom cable survey in Asia Pacific with a value of approximately USD 55 million. This survey is expected to be finished in the fourth quarter of 2015.