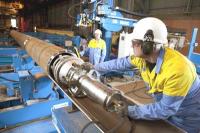 Tata Steel has strengthened its links in the Middle East through the formation of a partnership with International Development Company (IDC) in the region.
IDC was established in 1978 in the United Arab Emirates (UAE) to supply equipment into oil, gas, power and petrochemical industries for private industrial projects.
Tata Steel recognised the need to have local representation in Abu Dhabi and chose IDC based on its 37 years of experience and history. IDC will support and assist Tata Steel in obtaining national oil company approvals, which are required in the region.
Tata Steel has a diverse products and services offering for the energy and power sector, including welded line pipe and ancillary products from its UK pipe mills. Richard Broughton, Commercial Manager, Energy and Power, Tata Steel, said: "Tata Steel, along with IDC, will introduce its supply capabilities to oil and gas companies in the region, providing them with an opportunity to work with a supplier who has an excellent track record of providing for offshore and onshore line pipe projects worldwide."