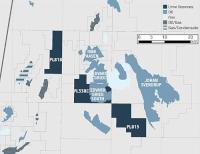 Rex International Holding Limited, a new-generation technology-driven oil company, has mapped out a value creation strategy for its assets in Norway - particularly in the North Sea - built on the Group's unique technology-led, de-risked exploration approach. Development feasibility studies are being carried out on the Edvard Grieg South (Rolvsnes) ("EGS") discovery in licence PL338C made in December 2015, for which a recent Gaffney, Cline & Associates ("GCA") Qualified Persons Report1 (dated 10 March 2017) disclosed GCA's independent assessment of gross contingent resources attributable to the PL338C licence, on an unrisked basis, of up to 77.9 million barrels of oil (3C resources: high estimate of potentially recoverable oil from the discovery) and up to 78.7 billion standard cubic feet of natural gas (3C resources: high estimate of potentially recoverable gas from the discovery). Rex's 87.84% subsidiary Lime Petroleum Norway AS ("Lime Norway") holds a 30% stake in the licence. The Group expects test production from EGS to start in 2019.
Måns Lidgren, CEO of Rex International Holding, says, "EGS is a prime example of our technology and infrastructure-led strategy in Norway. The EGS discovery is located near to Johan Sverdrup, one of the five largest oil fields on the Norwegian continental shelf with expected resources of between 1.9 to 3.0 billion barrels of oil, and adjacent to the producing Edvard Grieg and Ivar Aasen fields with estimated combined reserves of some 400 million barrels of oil. We have used our Rex Virtual Drilling technology to select and build a cluster of investments in this oil prolific area that already has pipeline infrastructure in place, allowing a fast-track path to potential commercialisation and return on investment (ROI) when we make more oil discoveries. To this end, Lime Norway also holds a 20% interest in licence PL815, where the undrilled Goddo prospect is believed to be a geological continuation of the EGS discovery, as well as a 30% stake in licence PL818 comprising the Orkja prospect located within easy tie-back distance to the Ivar Aasen field. Our aim is to prove up these adjacent fields in the mid to long term to grow our pool of resources, on top of achieving production in EGS in the short term."
The EGS discovery made in December 2015 is located in water depths of about 100 metres on the prolific Utsira High, and is the second discovery in licence PL338C. The first discovery was made in exploration well 16/1-12 in 2009, which proved a 42-metre oil column in fractured granitic basement.
The EGS discovery well was the first time that the Group's Rex Virtual Drilling (RVD) technology was applied to an unconventional weathered and fractured basement reservoir. RVD has also proven to be highly accurate in predicting dry wells. Over the past two years, Lime Norway has declined participation in more than 15 licences in Norway after RVD analyses. All the wells that were subsequently drilled in these licences came up dry, saving the Group millions of dollars in futile capital expenditure.
Rex's multi-attribute version of the technology, RVD version 3 (RVDv3), can identify the location of oil reserves using conventional seismic data, independent of porosity and permeability estimates from conventional geological studies; hence further de-risking the exploration assets. "Risk and commercialisation are the two key factors guiding smart exploration in the region. Exploration and drilling remain hugely expensive and time-consuming, so any technology that can derisk these activities – especially in a low oil-price environment – is incredibly valuable," adds Måns Lidgren.
"Exploration in Norway continues to benefit from long-term political stability and an exploration-friendly tax structure, which enables accredited pre-qualified petroleum companies such as Lime Norway to be eligible for tax rebates of 78% of their upfront exploration costs," says Måns Lidgren.
Lime Norway secured a 2-year extension of a credit facility of NOK 400 million (about USD 46 million) in December 2016.
Over the past months, Lime Norway has reviewed and optimised its portfolio of licences to build an enviable portfolio of exploration licences that showcases its unique approach to exploration and commercialisation. Licences failing to meet prospectivity criteria set by RVD and conventional geological evaluations have been relinquished to reduce future capital expenditure.
Today, the Group holds in total interests in six offshore assets in Norwegian waters, spanning the established oil fields of the North Sea and Norwegian Sea, as well as the less-developed Barents Sea. The Group believes these holdings offer a balance between longer term development prospects and more short term assets that are close to existing pipeline infrastructure, resulting in a clear and fast route to potential commercialisation and ROI. Lime Norway is also evaluating several farm-in opportunities that are already oil producing, which would offer financial and tax benefits in addition to reducing overall business risk. Besides the three licences in the North Sea, Lime Norway holds a 20% interest in licence PL841 in the Norwegian Sea, alongside operator Edison Oil (40%), Statoil (20%) and the Norwegian government-owned Petoro (20%). The block had previously been explored in the 1990s. Current technologies, including RVDv3, indicate that a well drilled then, to be a missed discovery. RVDv3 will be used to determine whether commercialisation is now viable. The Group's other licence in the Norwegian Sea is PL762, which covers the entirety of the Vagar prospect, is also currently being evaluated using RVDv3.
More than half of the estimated oil and gas resources in Norwegian waters remain to be produced4. In addition to developing prospects in established areas, the Group is also active in the further afield Barents Sea South region, where Lime Norway holds a 20% share of the PL850 licence, east of the producing oil field Goliat. Once again, RVDv3 offers the Group the opportunity to invest in drilling in this field only when it is satisfied that commercial returns can be potentially realised for partners and shareholders. Rex's Norway strategy is underpinned not only by its technology, but also by the experience of the specialist Lime Norway team, led by CEO Terje Hagevang.
"Our vision is for Lime Norway to be an oil producing company, with oil reserves of more than 100 million barrels of oil and at least 10 concessions prospected with Rex Virtual Drilling. We are working towards these aspirations," says Terje Hagevang.