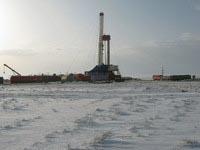 Jupiter Energy Limited presents the following update on activities for the 3 month period ending 30 June 2015. Also included in this report are details of subsequent events that have occurred up to the date of this release.
The Quarter in brief:
There were no oil sales made during the Quarter. All producing wells were shut in during February 2015 due to low domestic oil prices.
Outlook for Future Oil Sales:
The Company announced on 19 February 2015 that as a result of the material reduction in world oil prices, the sales price being achieved for domestic oil in Kazakhstan had fallen to levels that made oil production from Block 31 cashflow negative.
The Company therefore decided to cease production from both of its producing Akkar East wells (J-51 and J-52) until the domestic oil price improved. The Company continues to monitor local pricing on an ongoing basis, and believes that production may recommence in 1st Quarter 2016 but is unable to give any guarantee that oil production will recommence in that timeframe.