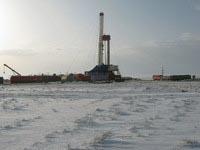 The Board of Jupiter provides the following update.
Testing of Well 19:
The completion and testing of well 19 included perforating the well underbalanced with tubing conveyed perforating guns, monitoring fluid levels and running pressure gages. Analysis of the test data indicated severe skin damage, a measure of reduced permeability near the well bore, which will require an acid treatment to stimulate the well and assist oil flow into the well bore.
On recovery of the tubing conveyed perforating gun an equipment malfunction meant that only a limited zone of 6.3m (2905.9 - 2912.2m) was actually perforated out of the planned 47.7m - i.e. approximately 13% of the total zone that had been targeted for perforation.