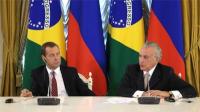 Russian Prime Minister Dmitry Medvedev hopes that collaboration in nuclear energy and space exploration will become the basis of technological alliance between Russia and Brazil.
"Our countries with actively developing economies pay attention to such promising areas of cooperation, as atomic energy and space research, which we discussed today" – said Medvedev on the press-conference after the VII session of the Intergovernmental Russian-Brazilian High Level Commission in Moscow on 16 September.
Russian Prime Minister also added that representatives of Russia and Brazil have agreed to proceed with the preparation of bilateral documents.
Within the session the Memorandum of Understanding was signed between the Russian State Atomic Energy Corporation "ROSATOM" and Nuclebrás Equipamentos Pesados (NUCLEP), the leading nuclear company in Brazil providing services in the heavy engineering.
From the Russian side the document was signed by Mr. Kirill Komarov, First Deputy CEO for Corporate Development and International Business of ROSATOM, and from the Brazilian side it was signed by Mr. Jaime Wallwitz Cardoso, President of Nuclebrás Equipamentos Pesados.