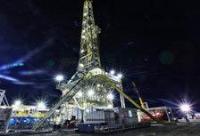 Serinus Energy Inc. is pleased to provide an update for its operations for the second quarter of 2015.
Resumption of Production at Sabria
As reported on July 27, 2015, production has recommenced at the Sabria Field in central Tunisia after being shut-in since the end of May 2015 due to local protests. Management expects that it will take several days for production rates to stabilize, but anticipates that the field will return to its pre-shut-in levels of approximately 700 boe/d (SEN WI), or 1,550 boe/d (gross).
Serinus, through its wholly owned subsidiary Winstar Tunisia B.V., holds a 45% working interest in Sabria and is the operator, with the remaining 55% held by ETAP
Corporate Second Quarter Production and Realized Prices Summary
Average corporate production for the second quarter was approximately 3,994 boe/d (SEN WI), representing a 9% decrease from 4,406 boe/d in the first quarter. The major cause for the decline was the shut-in of the Sabria Field.