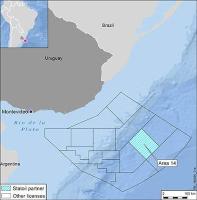 Statoil Uruguay B.V. (Statoil) has agreed with Total E&P Uruguay B.V. (Total) to acquire 15% working interest in offshore exploration block 14 in Uruguay.
This represents a new impact opportunity for Statoil and a new country entry.
Block 14 is located in the Pelotas basin of the South Atlantic Ocean, approximately 200 kilometres off the coast of Uruguay. It covers an area of 6,690 square kilometres in water depths of 1,850 to 3,500 metres.
Statoil has acquired 15% working interest from operator Total. This transaction is pending governmental approval. Total retains a 50 % working interest. The partnership also includes ExxonMobil Exploration and Production Uruguay B.V. with 35% working interest.
"With this transaction, we are positioning ourselves in yet another underexplored basin with upside potential. This is in line with our exploration strategy of early access at scale, and strengthens Statoil's long-term international portfolio," says Nicholas Alan Maden, senior vice president for exploration in Statoil.