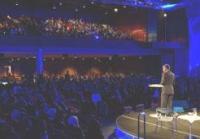 At today's ONS innovation luncheon, the ONS Special Innovation Award was granted to Tore Halvorsen of FMC Technologies.
Halvorsen became Managing Director of FMC Kongsberg in 1994 and is currently Senior Vice President in FMC Technologies, responsible for Global Subsea.
A pioneer within subsea technologies The jury members described Halvorsen as a worthy winner of the award due to his leading capacity in the development and implementation of subsea technology for the global oil and gas industry.
"Tore Halvorsen is a pioneer within subsea technologies and has by stimulating the organisation to technological innovations and by actively using innovation management been the driving force for subsea solutions", said The Minister of Oil and Petroleum, Tord Lien, which announced and handed out the award.
Extensive experience Halvorsen has more than 30 years experience in subsea field development including design and development, technical management and project management. His merits started in a department in Kongsberg Våpenfabrikk in 1980 and have continued through the different acquisitions and reorganisations till today's FMC Technologies.