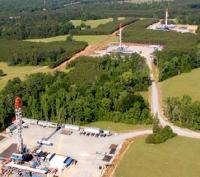 EXCO Resources, Inc. has obtained the requisite consents to approve the proposed amendments on its previously announced consent solicitation to amend the indenture governing its 7.500% senior notes due 2018 (the "Notes"), which expired at 5:00 p.m., New York City Time, on November 24, 2015 (the "Expiration Date").
Following the receipt of the requisite consents to the proposed amendments, EXCO entered into a supplemental indenture effecting the proposed amendments with respect to the indenture governing the Notes, which became operative on November 25, 2015.
The new supplemental indenture: (i) eliminates the reduction in the amount of secured indebtedness permitted under EXCO's credit facilities upon principal payments which result in a permanent reduction in borrowing capacity of EXCO and its subsidiaries, and (ii) amends the definition of "Credit Facilities" in the indenture to include debt securities as a permitted form of additional secured indebtedness, in addition to the term loans and other credit facilities currently permitted.