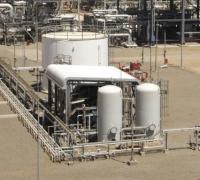 Prices of spot liquefied natural gas (LNG) for December delivery to Asia plunged 29.4% year over year to average $12.490 per million British thermal units (/MMBtu), according to the latest Platts Japan/Korea Marker (Platts JKM™) for month-ahead delivery. The data reflects the daily Platts JKM™ for December assessed between October 16 and November 14, expressed as a monthly average.
At $12.49/MMBtu, the monthly average JKM for December delivery reached levels not seen since 2010, when the December JKM averaged $9.549/MMBtu. In the years following the Fukushima disaster and subsequent loss of nuclear power in Japan, December JKM monthly average prices had been consistently above $13.00/MMBtu.
The JKM lost $4.425/MMBtu over the assessment period, recording the most volatile month in the history of the marker. After beginning the month at $14.925/MMBtu on October 16, the December JKM closed at $10.50/MMBtu November 14, a new low for 2014, as sentiment became increasingly bearish.