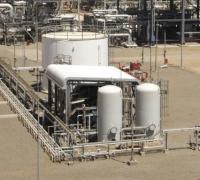 Prices of spot liquefied natural gas (LNG) for September delivery to Asia plummeted 33.1% year over year to an average $10.702 per million British thermal units (/MMBtu), the latest Platts Japan/Korea Marker (Platts JKM) for month-ahead delivery showed. The drop came as increased supply in the region continued to outweigh lackluster demand.
On a month-over-month basis, the September JKM was down 5.8% from August. The data reflects the daily Platts JKM for September assessed between July 16 and August 15, and expressed as a monthly average.
"The results of Australia's North West Shelf LNG tender for cargoes loading in September, October and November showed a steep contango* building into the traditionally high-demand winter season," said Stephanie Wilson, managing editor of Asia LNG at Platts, a leading global energy, petrochemicals and metals information provider and a premier source of benchmark price references. "This prompted some buyers in Japan to purchase cargoes for October at prices significantly above those seen in September."
At $10.702/MMBtu, the average Platts JKM for September was the lowest monthly average on record since April 2011, and reflected the largest year-over-year decrease in 2014.