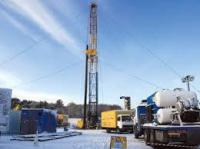 Union Jack Oil plc has entered into an agreement with Egdon Resources plc, to farm-in to the conventional prospects only of PEDL209 containing the Laughton Prospect.
PEDL209 is located along the eastern side of the Gainsborough Trough, a proven hydrocarbon province within the East Midlands.
Under the terms of the Agreement, Union Jack will pay 16.67% of the cost of the Laughton-1 well, scheduled to be drilled during February 2016, to earn a 10% economic interest the conventional resources in PEDL209.