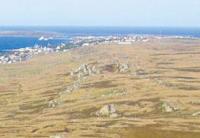 Borders & Southern provides a technical update on its Darwin Gas Condensate Discovery and near-field prospectivity.
The Company has completed a comprehensive seismic reservoir characterisation study aimed at investigating the Early Cretaceous shallow marine play fairway. The objective was to improve the Company's understanding of the Darwin reservoir interval, both within and surrounding the discovery itself and its projected facies trend along the Aptian shelf. The analysis was based on approximately 2,500 square kilometres of high quality prestack depth migration (PSDM) 3D seismic data. Results from the study have allowed us to revise resource estimates for Darwin and close-by prospects.
The initial interpretation of the new 3D data confirmed the basic structural mapping but extended our knowledge northwards away from the discovery. The mapping also highlighted a number of interesting seismic amplitude anomalies, some of which were coincident with previously mapped leads. One of the key insights from this first phase of work was the influence of stratigraphic thinning of reservoirs on regional prospectivity. Potential reservoir intervals in the Early Cretaceous section, including the Darwin reservoir, thin towards the west and northwest. As a consequence, the shelf portfolio is now enhanced to include combined structural and stratigraphic traps.