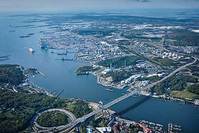 MAN Cryo, MAN Diesel & Turbo's marine-LNG fuel-gas-system manufacturer, has signed a contract with Swedish infrastructure company, Swedegas, to deliver an LNG bunkering facility within the Port of Gothenburg.
The new facility will enable vessels to bunker LNG from trucks or containers while simultaneously loading/unloading cargo at two jetties at the port's Energy Port, dispensing with the need to make a separate refuelling stop. The solution offers increased flexibility for customers and LNG suppliers, and will be open for multiple suppliers.
"We are very happy to have won the contract to build this first such bunkering facility in the important Port of Gothenburg. Our strategy to offer LNG solutions to the marine market, both on board vessels as fuel-gas supply systems but also as bunkering infrastructure, dovetails perfectly with the general development towards cleaner ship propulsion," says Mikael Adler, Managing Director of MAN Diesel & Turbo, Sweden. He continues, "We strive to bring robust, smart and flexible solutions to the market, and this strategic project is an excellent example of that."
The purpose-built facility will comprise of a discharge station for LNG trailers or containers, feeding pumps, vacuum-insulated piping and bunkering equipment to facilitate efficient operations. The installation will also satisfy the stricter sulphur directive for shipping and has been designated by the EU as one of the most prioritised infrastructure projects in Europe.
MAN Cryo will oversee the project under the terms of an EPC contract including engineering, procurement and construction, and managed from MAN Diesel & Turbo's local Gothenburg office.
The facility is scheduled to open during 2018 and will be operated and managed by Swedegas in close cooperation with the Port of Gothenburg.