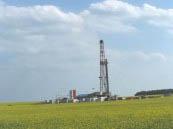 MOL has a well-established, proven track record and successful presence in the country with five blocks and over 15 years of operation. As the operating shareholder of the TAL Block, MOL is currently responsible for over 70 thousand boepd (kboepd) gross production.
Mardan Khel-1 was drilled as an exploration well in TAL Block, located in the Khyber Pakhtunkhwa Province. It was spudded on September 17, 2014 and the well reached target depth of 4,912 meters on February 17, 2015.
The well tested four formations and all flowed with high volumes of gas and condensate. The current total production capacity of the facilities in the Tal block is 80 kboepd gas and 37 kboepd of liquids per day. This capacity is sufficient to integrate the new well. MOL intends to carry out an appraisal plan including additional wells on the Eastern and Western parts of the structure. Our partners in the JV consortium are OGDC (30%), PPL (30%), POL (25%) and GHPL (5%).