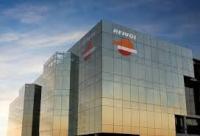 Repsol Chairman Antonio Brufau and Chief Executive Officer Josu Jon Imaz announced a new gas discovery in Bolivia at an event hosted by the President of that country, Evo Morales. The discovery, in the Margarita-Huacaya block, increases reserves in the Caipipendi area and bolsters Repsol's gas production in Bolivia.
Investment in phase III of the Margarita-Huacaya project is expected to reach $293 million by 2018, strengthening Repsol's commitment as a strategic partner of the Bolivian government. Repsol currently produces 18 million cubic meters of gas in Bolivia, having achieved early the production expected for 2016. Margarita-Huacaya is one of ten key projects in Repsol's 2012-2016 Strategic Plan.
The event was held at the Margarita 7ST well site, where the discovery was made, and was attended by the Vice-President of Bolivia, Álvaro García Linera, the Minister of Hydrocarbons and Energy, Luis Alberto Sánchez, the Chairman of YPFB, Guillermo Achá and Repsol's Executive Exploration & Production Managing Director, Luis Cabra.