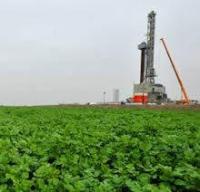 San Leon Energy announces an update to the results of the Rawicz-12 well test in Poland.
The Company has finalised a Competent Persons Report ('CPR') on the Rawicz Gas field for Palomar Natural Resources ('PNR'), the operator. Ryder Scott has issued an estimate of the gross Proved plus Probable (2P) reserves for the Rawicz field of 50.3 billion cubic feet (Bcf) based upon a five-well development plan (including the Rawicz-12 well).
Both San Leon and PNR expect to move reserves to Proved (1P) based upon a signed gas contract, which is currently under negotiation. All estimates produced by Ryder Scott comply with the 2007 Petroleum Resources Management System (PRMS) prepared by the Oil and Gas Reserves Committee of the Society of Petroleum Engineers (SPE).
PNR, together with the Company, is currently in the advanced stages of the planning and design of several development scenarios focused on bringing gas online in early 2016. A development plan will be submitted to the Polish regulators, based on the CPR. The current development plan is based upon building a scalable central processing facility to handle the gas production from adjacent prospects on the Rawicz Concession, which PNR estimates to be in excess of 100 Bcf.