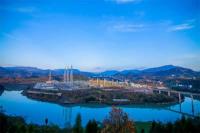 Chevron's fully-owned subsidiary Unocal East China Sea, Ltd. began natural gas production from the first stage of the Chuandongbei Project in southwest China. Chuandongbei is one of the largest onshore gas projects developed by an international oil company and a national oil company in China.
"First gas for the Chuandongbei Project represents a significant milestone and highlights Chevron's leadership in the development of sour gas resources," said Jay Johnson, executive vice president, Upstream. "The project will be an important supplier of clean and affordable energy to the rapidly growing economy in southwest China."
The Chuandongbei Project covers over 800 square kilometers in Sichuan Province and the Chongqing Municipality. Unocal East China Sea, Ltd. holds a 49 percent participating interest as the operator and China National Petroleum Corporation holds a 51 participating percent interest.